National Booking System (NBS) appointments at Chipping Norton Health Centre for eligible 1st dose Covid vaccination patients.
Next week's NBS Clinics will be made live today 12/05/2021 at 7pm for eligible patients from Groups 1-10. As demand is likely to be high for these appointments and the general public can book into them from anywhere in the country they are likely to be booked very quickly. Please note you will also have to book your 2nd dose appointment at the same time. Also note that you will need a booking reference number when you attend your appointment, otherwise you are likely to be turned away.
Please do not contact the practice about these clinics as we are not able to book patients into the National Booking System nor do we have any access to this system.
MHRA and JCVI update regarding AstraZeneca Vaccine
As you may have seen in the media, there have been reports of an extremely rare adverse event of blood clots and low platelet count following the first dose of the AstraZeneca Covid-19 Vaccine in a small number of patients.
After consideration by the MHRA and JCVI, amended guidance has been issued.
The JVCI now advises that it is preferable for adults under 30 years of age without underlying health conditions to be offered an alternative vaccine as a precautionary measure, if available. Individuals may make an informed choice to receive the AstraZeneca COVID-19 vaccine to receive earlier protection.
Therefore, as a precautionary measure, these patients will be offered an alternative vaccine (i.e., the Pfizer BioNTech), which should be made available shortly. If an appointment is currently booked for the AstraZeneca COVID-19 Vaccine, then this will be cancelled.
All other patients, including those under 30 who have already had an AstraZeneca COVID-19 Vaccination, are unaffected. This means that this amended guidance is only likely to currently affect a small number of patients until we reach the stage where those under 30 years old, as a general cohort, are vaccinated later in the spring/summer.
Wychwood Surgery Covid Vaccination Programme Update 07.04.2021
We are pleased to be able to say that we have offered a first vaccination to nearly all our patients in Groups 1-9. If you are a patient in these Groups and have not received an invitation for vaccination please contact the surgery by emailing Vanessa.newman@nhs.net as soon as possible. If you are unable to email then please contact reception on the usual surgery phone line. Please note that the preferred method of contact us about Covid vaccinations is Vanessa.newman@nhs.net
We are also offering vaccinations to household members of those who are immunosuppressed due to medication or diagnosis. If you think you fall into the immunosuppressed category and you have household members who are 16 or over who have not yet been vaccinated please contact Vanessa.newman@nhs.net and we will look into whether your household members qualify or not. Please note household members must share the same address as the immunosuppressed patient and may be asked to prove this. The immunosuppressed individual must give consent for household members to be contacted in the first instance, again please contact Vanessa.newman@nhs.net for further information.
If you are an informal carer for a relative or friend who relies on you and cannot cope without your "caring" and you have not yet been vaccinated please contact Vanessa.newman@nhs.net giving full details and we will look into this matter further.
2nd dose vaccinations – we are currently well into the programme of 2nd dose vaccinations and if you or a relative reaches 11 weeks since your 1st dose vaccination without being offered an appointment then please contact Vanessa.newman@nhs.net and we will look into this matter urgently.
Please remember that your 2nd dose vaccination should be at the same venue as your 1st dose wherever possible and it must be of the same vaccine.
Flu Immunisation
If you are > 65 years old or 18-64 years old and are considered "at risk" please contact reception on 01993 831061 to book an appointment for your flu immunisation.
For further information on who should have the flu vaccine please go to https://www.nhs.uk/conditions/vaccinations/flu-influenza-vaccine/ or contact the surgery.
Patients in the 50-64 years old age group can book an appointment for their flu immunisation from 14th December 2020. Please contact reception on 01993 831061 to book an appointment. Do not turn up at the surgery unless you have booked a prior appointment.
Covid Vaccination Clinic Patient Health Questionnaire for 2nd Dose
Covid vaccincation 2nd dose health screen form to download.
In line with government and NHS recommendations we are now asking that all patients, members of the public and contractors entering the Wychwood Premises adhere to the following instructions.
With effect from Monday, 15th June 2020 we are asking all patients, members of the public and contractors to wear face coverings before they enter the Wychwood Surgery premises, this will include those visiting Wychwood Pharmacy. Face coverings will be required to be worn at all times during your visit unless you are advised otherwise by a member of the practice team.
Please bring your own face covering with you as the practice will not be able to supply these for you.
Very young children, disabled people, or those who have breathing difficulties and respiratory problems that may be exacerbated by wearing a face covering are exempted from this requirement.
We would like to take this opportunity to thank all our patients and volunteers for their patience during these difficult times.
The Management team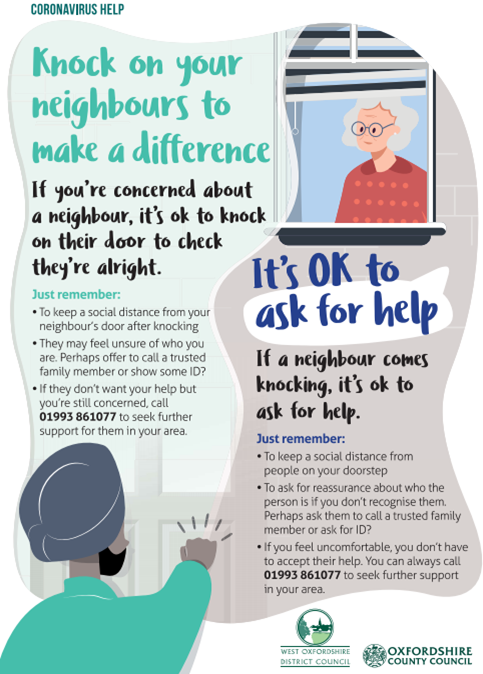 NHS 111 First
tAs you will be aware Oxfordshire launched the new NHS 111 first service today. Now, people who need urgent clinical advice but aren't in a life-threatening emergency are encouraged to contact NHS 111 first before attending their local Emergency Department.They will then be assessed and, if appropriate, booked into either the John Radcliffe or Horton General Hospital Emergency Department for treatment.For more information, visit the OUH NHS 111 First webpage.
Food and essential supplies grant
Booking an appointment at Wychwood Surgery!
Patients are reminded that currently all GP appointments will be triaged by a telephone consult with a GP &, if they think that you need to be seen face to face, you will be given an appointment. For some health matters or medication reviews, we may be able to help you over the telephone.
If you need to speak to a GP, call the surgery between 08.15 & 17.00 & a receptionist will give you further instructions. Please note that the receptionist will ask for details of the nature of your call so that the GP can prioritise his/her calls.
This form of appointment is likely to be the norm for some months to come.
If you are unwell or have symptoms you are concerned about please do not hesitate to contact the surgery. We are adhering to Social Distancing guidelines as required by the NHS and Public Health England and are trying to keep footfall in the surgery to a minimum.
If you require a blood test or appointment with the nurse or Healthcare Assistant these appointments must also be prebooked by contacting reception.
New COVID Symptom Study App
News and Updates from Oxfordshire County Council
Workout you can do at home!
Welcome to Wychwood Surgery
With patients' needs at the heart of everything we do, our website has been designed to make it easy for you to gain instant access to the information you need.
As well as specific practice details such as opening hours and how to register, you'll find a wealth of useful pages covering a wide range of health issues along with links to other relevant medical organisations.
Telephone calls to the Surgery
Calls may be recorded for training and quality purposes in line with GDPR regulations.
Keep up to date with the latest practice news